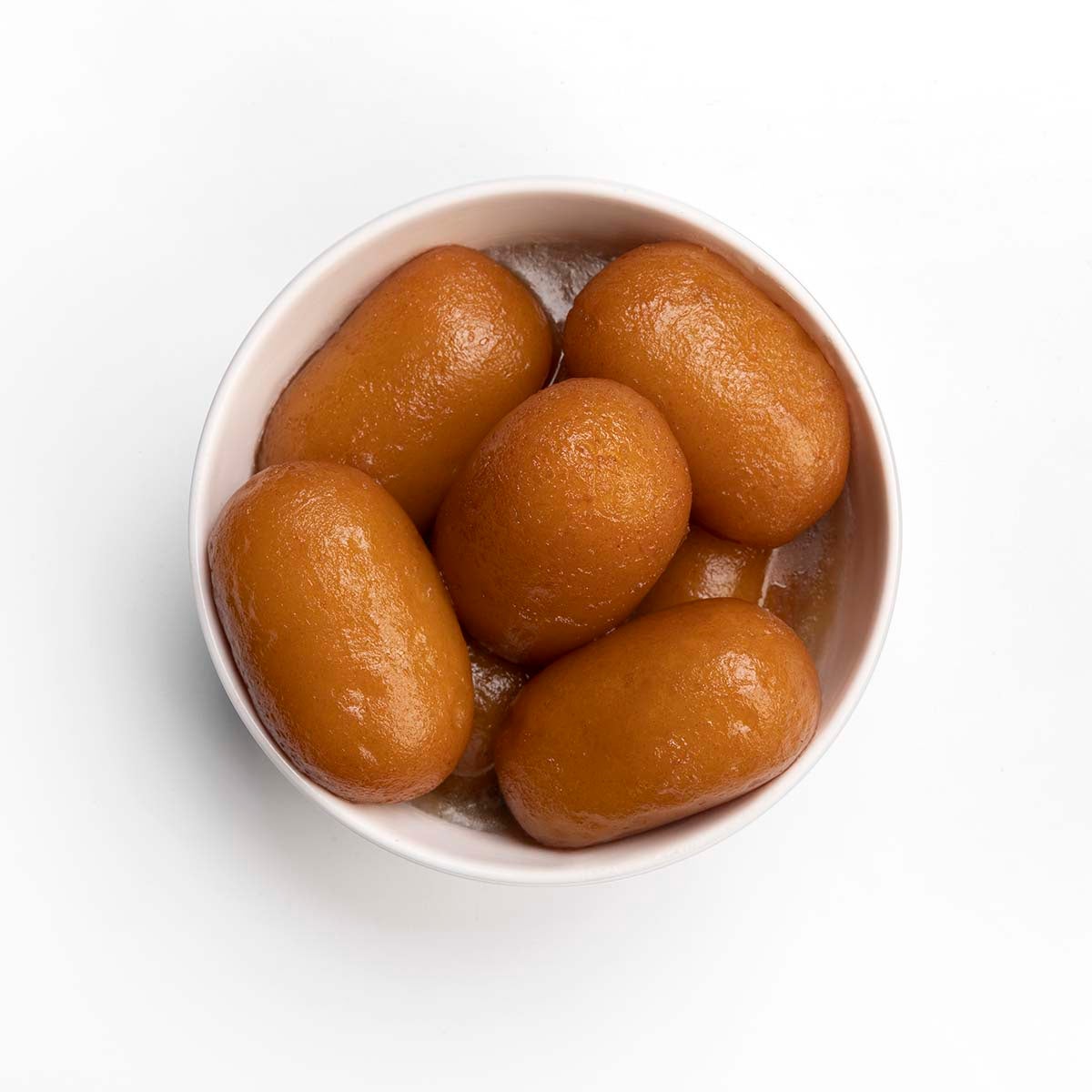 Gulab Jamun
Rs. 325.00
Regular price
Rs. 375.00
off
Description
Mumbai's most beloved and our signature dish – The Gulab Jamun! Our special recipe of Gulab Jamuns will make you realise – you just can't stop at one!
Ingredients
Refined Wheat Flour, Milk Solids (Khoa) , Sugar, Ghee, Water & Refined Oil
Super tasty and high quality
My favourite Gulab Jamuns
Such a treat to find Jhama online ! Now the deliciousness is within my reach! Just love the gulab jamuns! They are strangely, not as sweet and not as oily as some versions I have had .. These are perrrrfect! Thank you for packing them up so well and sending them in such a clean fab way! God Bless!
Product tasted as predicted… EXCELLENT
Product was sent to pune, product quality and taste was excellent however the majority of the gulab jamuns came broken in this packaging. 75% of the product was in small pieces and could not be gifted as originally intended. However I have been promised a full credit back by the mangt team. Which I highly appreciate
Tastiest Gulab Jamun ever tried
Yummy and Delivery on time
Jhama sweets is always a pleasureable experirience, delivery on time, Gulab Jamun is the best.
Gulab Jamun
Rs. 325.00
Regular price
Rs. 375.00
Shipping
Delivery Time
Orders placed before 5pm in Mumbai, Navi Mumbai & Thane will be delivered the same day. (Except Festival Days) Delivery For All Metro Cities - Within 2 to 4 Days. Delivery For All Non-Metro Cities - Within 5 to 7 Days.
Have Questions?
Call us now: +918260224466 / +918260335577
Whatsapp: +917304040007
Mail us: customercare@jhamasweets.com
FAQ
Do I need a Jhama account if I want to order?
For those in a rush with no time to register, we have an option of a guest-checkout. A little secret to share with you- having an account with us will make you a part of our community and give you so many benefits.
Okay, I'm intrigued! How do I sign up?
You can create an account at checkout.
I can't log into my account. HELP!?
Send us a screenshot of the error message and your account ID at customercare@jhamasweets.com. We'll take care of it!
Oops, I seem to have forgotten my password. What now?
The 'Forgot Password?' tab under the login box will tell you all that you need to do
Our checkpoints
Packed using M.A.P Technology